UC Research Methods User Group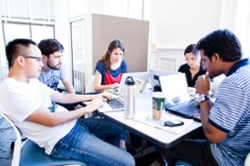 WEBDAM
The goal of the IRAP research methods user group is to assist staff in developing and or refining research skills needed to produce proactive research.
Quarterly meetings where either an IRAP team member or someone from outside IRAP teaches a core principle of research design (e.g., how to operationalize a research question, experimental methodology) and its' application to higher education research along with a hands on activity for staff.
Benefit of Being Part of the UC Research Methods User Group
Part of IRAP's strategic plan involves producing innovative proactive research, which can be used to improve decision making within the UC system.  Helping staff to either develop or enhance their research skills will undoubtedly assist staff in producing creative and informative research which will help improve the university.
If you would like to join this exciting research group, contact Daniel Byrd at Daniel.Byrd@ucop.edu
Where We Meet: UCOP, Franklin Building, 1111 Franklin Street, Oakland CA 94607 or via Zoom: https://UCOP.zoom.us/j/6650834847 - audio only dial *4 (from UCOP office phone) or +1 408 638 0968 (US Toll) and use meeting ID: 6650834847
When We Meet: Quarterly 
Time We Meet: Non-specific
UC Research Methods PowerPoint Decks