Announcement: ITS Legacy Site Migration
New Links:
Welcome to the new Data Operations Hub. Here are some links that will help you find what you're looking for, please update your bookmarks appropriately.
Overview:
In order to move to provide for greater accessibility, readability, and quality content, the Corporate Data Warehouse Legacy Site (http://legacy-its.ucop.edu/dd/cdw/) has been modernized and migrated to its new location, http://data.ucop.edu. Here'll you find data definitions, input file specifications, table layouts, application overviews, and more. 
While the format of content may look different, no material changes have been made to operations that may impact you. As documents and process continue to be updated in the future, you'll find those updates here on data.ucop.edu and will be notified through the same communications you receive today. 
The content has been categorized under the following top level subject areas:
Contracts & Grants

Corporate Personnel Data Warehouse

Equipment, Facilities & Assets
To find new content, find the menu bar at the top of this page (or any data.ucop.edu page) and select the SUBJECT AREAS link: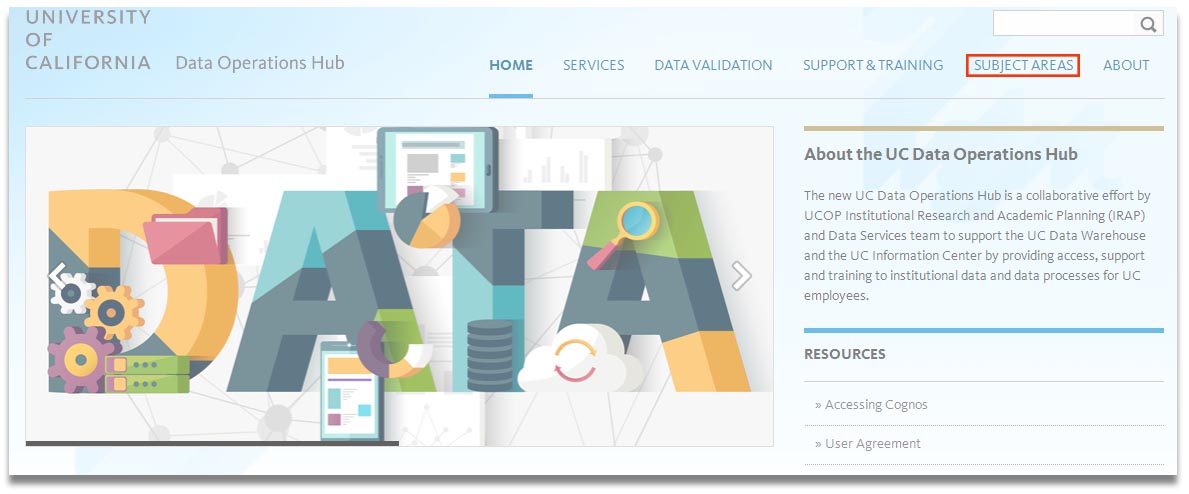 If you have any comments, questions, or concerns, please contact gregory.boyer@ucop.edu