UCOP Data User Group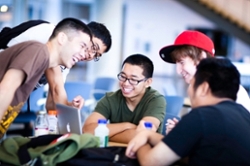 WEBDAM
The UCOP Data User Group (UCOP DUG)
UCOP DUG (UCOP Data Users Group) is a focused group of data users within the University of California Office of the President designed to help build relationships between data users. We meet monthly to share lessons learned and explain the essentials about the data within the UC Data Warehouse. This powerful group can be leveraged to identify opportunities to adopt data standards which will promote data quality, discuss new data priorities and collaborate on new data projects. We also share best practices, present how-tos, and provide constructive critique for data queries and much more. If you're a current UCDW data user, drop in!
For more information or an Outlook invitation, contact Ola.Popoola@ucop.edu or Bob.Fraysse@ucop.edu.
Benefits of Being a Part of the UCOP Data User Group
Joining the UCOP DUG will help members get familiar with the new UC Data Warehouse (UCDW) infrastructure as we share  and tricks, SQL queries and best practices. It encourages networking, collaboration and increases the knowledge base among UCDW data users who can bring fresh perspectives to data-related projects and initiatives across the UC system. 
Where We Meet: IRAP Commons, 11th Floor, 1111 Franklin Street, Oakland CA 94607 (location subject to change)
When We Meet: Once a month
UC DUG Meeting PowerPoint Decks