UCDW Support and Resources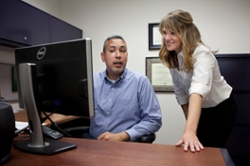 The University of California Data Warehouse (UCDW) is an enterprise data warehouse that unifies and holds UC business information from several content areas in an organized and integrated manner. Data within UCDW is classified according to subject area and access is provided according to these content areas and agreed permissions.  It is envisioned that the creation of this data warehouse will make all the data constantly available for analyzing and planning purposes.
UCDW uses specific abbreviations and naming conventions that are unique to its design. Access to the naming convention is available to UCOP staff only via this link.
UCDW Subject Areas
All major student-related subject areas have been migrated into UCDW. Subjects areas within the infrastructure include:
Contracts & Grants
Course Enrollment
Student Enrollment
Student Financial Support
Degree
Undergraduate Admissions
Graduate Admissions
UCDW Testing and Data Validation
Training Materials
Support Resources by Content Area
Undergraduate Admissions (UCOP/UC Only)
Student and Course Enrollment (UCOP Only)
Degree (UCOP Only)
Student Financial Support (UCOP Only)
Contracts and Grants (UCOP Only)
Annual Wage/State Controller's Office Submission (UCOP Only)
Payroll/Personnel (UCOP Only)
Graduate Admissions (UCOP Only)

Data Dictionary (Star-Schema)

UC Undergraduate Experience Survey (UCUES)
Undergraduate Cost of Attendance Survey (UCOAS)
Graduate Student Support Survey
PhD Career Pathways Alumni Survey
UC Graduate Student Experience Survey (UCGSES)
Undergraduate Longitudinal Data (ULONG)