The UCOP Tableau User Group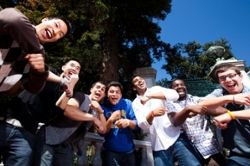 WEBDAM
Tableau is the tool of choice for data visualization at UCOP. UCOP IRAP created the UC Information Center using Tableau.
The UCOP Tableau User Group (UCOP TUG)
The UCOP TUG is a community of UCOP staff interested in building and sharing their Tableau skills. We meet bi-monthly to discuss product updates, share best practices, present how-tos, and provide feedback on reports-in-development and much more. All levels of experiences are welcome, and sessions will include resources for beginners as well as intermediate and advanced visualization techniques. We also offer opportunities for staff to ask questions and brainstorm visualization ideas with the UCOP TUG community. For more information, contact Andrea.Belgrade@ucop.edu or Mahsa.Ashabi@ucop.edu. 
To receive meeting updates, subscribe to our listserv: optableauusergroup@listserv.ucop.edu 
To volunteer to present a visualization project and/or make suggestions of content to cover in future sessions, please fill out this form: https://ucop.co1.qualtrics.com/jfe/form/SV_6rgK9JpW8zvy2A6.
Benefits of Being a Part of the UCOP TUG
It helps everyone gets smarter with the Tableau as we share tips and best practices.
It encourages networking and collaboration between Tableau users who can bring fresh perspectives to projects and initiatives across UCOP.
When We Meet: Bi-monthly
Upcoming 2023/24 Dates:
July 20, 2023
September 21, 2023
November TBD, 2023
January 18, 2024
March 21. 2024
May 16, 2024
July 18, 2024
To add UCOP Tableau User Group meetings to your calendar, download and import the following (.ics) files to your calendar system: 
https://UCOP.zoom.us/meeting/tJEvceqtqDMoE9zHoP9t_hM85qv_NtSoloHw/ics?icsToken=98tyKuCtrD0pH9KdshCPRowMAI_ob-_wplxBj_pHtBDVWjRsai6uY_NUDZxrI9fc
Time We Meet: 3:30PM to 4:30PM
Where We Meet: Via Zoom - https://UCOP.zoom.us/j/95263568298
Meeting ID: 952 6356 8298
Shared Tips and Tricks
Useful Resources
Getting Started With Tableau
If you would like to get started with Tableau, download a free copy from the Tableau download Site. On this site, you will find several resources that will guide you through the installation process. Once you are ready to purchase a full Tableau Desktop license, please contact the Thomas Trappler at UCLA by sending an email to: Thomas.Trappler@ucop.edu. For more information about using Tableau and other products available, visit https://www.tableau.com/support.
Useful Links